Attention to the details, motivation, enthusiasm and looking forward to the chances that life is prepared for him. This is how we could describe the barber André Macedo after meeting and talking with him in the center of Porto. But we met to talk with André not only about his career and his future plans, this summer he made a tour, in which he visited different barbershops in Portugal and interviewed the owners of the best ones. As he mentions, it gave him valuable experience, which allowed him to see the difference and share the knowledge with the people. Soon the people in Portugal will be able to hear his speech in the international conference TedX, where he will share his story and will prove that hard work will always pay off and risks need to be taken, as long as they are calculated. André and his journey can be called one of a kind, which is full of adventures, hard work and passion for what he does, which can be seen in his eyes when the talk touched the subject on his career.
How did life and the choices that you made brought you to where you are today? How did the idea of becoming a Barber come to your mind?
In the past, I was not related to the barbers' profession, and it was not my thing. When I recall the times, I used to go to a barber shop, not with my father, which is the normal thing to do, but it was my mother, because wherever my mother worked I would go to the school in front of it, so I was always with my her. My mother used to bring me to the barber shop and I used to go with a buzz cut so for that my memories of the barber shops are not the best ones, but still it's funny, because later as I grew up, I started to become interested in this craft, but more as a customer, not as a barber. And then it went to a point where I saw the social side of it, and how being a barber can be a really nice profession, because You have a cool schedule, you can be with the family, and you are able to do your own personal stuff. In the past, I did part-time jobs, which actually showed me that the thing that was missing was the social part. And this I found in the profession of barbering, where you talk with the client and you keep that connection with different people, from different kinds of backgrounds. I started to think about becoming a barber more seriously, and it was pretty cool. I always give attention to details. It is effortless, and I was already interested in style and appearance, so barbering is everything about it and then there is the social part, which is very important to me. I admit that it took a while for me to be where I am today, but when the idea came to my mind it was obvious that I need to do it. I had a friend who was cutting hair and also my hair in a place, which was different from what I see today. But even with that place, I thought that it was cool and I just thought that "Why not?" and that questions became real next month when I started working.

How would you describe your job?
I would like to call myself as a creative person, and usually, the creative ones need that push to start doing something. And the main issue in this is that you get bored quite quickly and if you don't start doing it, you will just never accomplish what you want. And for me, it was that 'If I will not do this in a month time, I will lose it' and I never looked back ever since because I really fell in love with it. I would not imagine doing anything else at the moment. And I have two sides, the ones that risk more and the other that is very calculated. In the beginning, I was a bit afraid, but I was not risking too much. It took some time to do the complex haircuts, and when I felt that I was good enough to try, I did it. The first place where I start doing haircuts was my garage, I just took a cable and invented my workplace there. It was a very interesting start, and as I would call it 'If you want to do it, just do it right'. For example, I started working in my garage, but it does not mean that I was not doing a good service. I just didn't charge for it, because I did not feel like it was the right thing to do, but still, maybe they could have the best service. And when I grew up, my friend asked me to join his barbershop, so in 3 days that place became my first workplace. And it was beautiful, it was tiny, but it still felt like the right thing to start my career. And people started to ask for me because I was doing good haircuts and it was my hard work that leads me to where I am today.
What does this job make you feel? What is the most difficult part of your work? It can actually be called quite old considering the traditions and the attention which is given to the process, when a client comes for a shave.
Fulfilment. The most difficult part are the shaves. (smiles) It's such a surgical procedure, and even when you are good at it, your mind will always take you back by thinking 'I hope I will not cut this guy'. I had the experience of cutting my first shave and it was hell. The guy who came wanted a full shave. And it was done in such long time because the beard was very thick. It was like Sweeney Todd for the people who saw that, but after I did the after shave, and when the man got up it was perfect. his is once again my calculated risk, which gives me the experience for my work.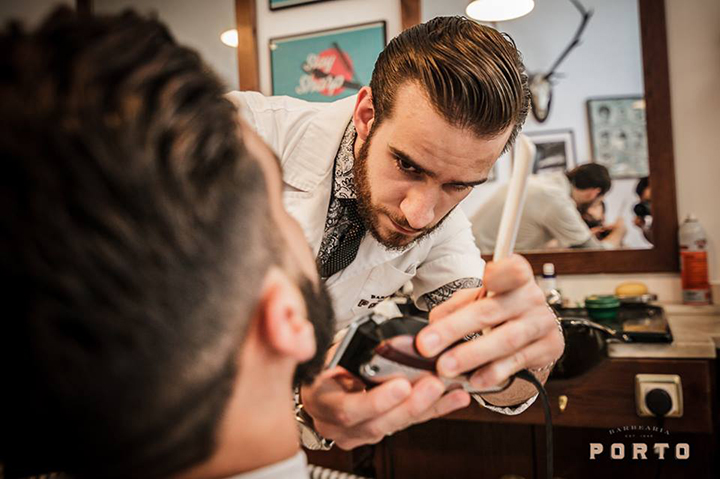 What are the main values that you think are important in your work?
I think that the three most important ones are: respect, diligence and humbleness.
How did you found the Barbershop Porto, in which you are working today?
The guys from that place were looking for a barber, and I thought that this could be fun because I can expand my horizons, so maybe I could work in my place and also in Porto at the same time. So, I send them a message because I knew that they needed a good barber. I don't consider myself a master barber, but a good one. Because it will take years and even after 30 years, I will be still learning, because there is no end for that. And with that in mind, I knew that they needed a barber, that knew the old school techniques, which in Porto is difficult to find it. Now it's all about the coolness, but not about the traditions and the techniques. Barber work is for the community and you always need to think about the social aspect of your work. And our thing is that we like the shining look, everything that makes you feel like in the 1920's. You need to work around your taste and people's needs. You need to be a good listener to be a good talker, and in a way, you just need to listen to people and work around it, and they will thank you for it.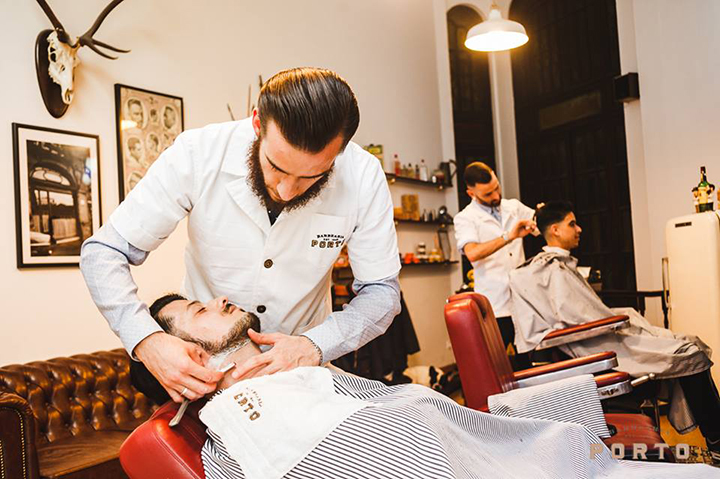 Your project, in which you traveled in Portugal and talked to barbers from different cities is unique and actually shows their stories, passion to what they do. How did you come up with this tour idea?
To pick which ones I will visit was not hard, because we were talking about the fact that there are many barbershops, but it does not mean that all of them are great. In Portugal, it is not a big thing yet, so the niche is not so wide. For example, in England of Holland, the situation is different. So some of the barbershops that I visited I was following on the social medias. The guys from Lisbon are friends with the Barbershop Porto. The place from Algarve, I was following their work and the owner was amazing, in terms of design, marketing, and branding, the pictures were perfect, with the implacable taste. And when I met him in reality he was simply amazing. He took me from the airport, which was very far from the city. And I think that this is how it is supposed to be, it is not about your service, it is about your personality. You want to be better not for someone else, but for your client. The thing that the client will value it the value that You put on him. My goal was to show different places, people. For example, the guy from Algarve was a bit emotional, like giving more attention to the community side. And in Lisbon, it is the same thing, but edgier, which You can see in the video. In Algarve, it was a sit-down and talk meeting, while in Lisbon the barber was talking while he was cutting the hair. The idea came up quite easily, and I really wanted to do that. The tour was like a vacation, of course, I got tired, but that is a normal part of the journey. It was rewarding and I was looking for that.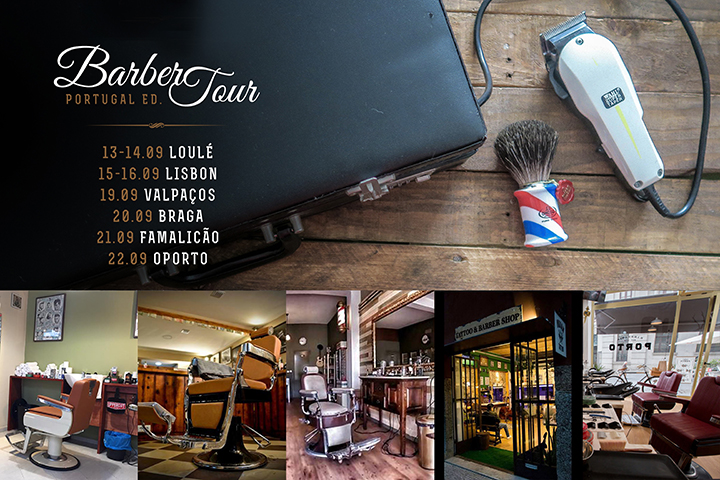 What did this tour bring to you and your professional career?
Followers, because I was presenting their work and my main goal was not me but the places I would go to. Still, through them, I could share my personal work and not just as a barber.  It's like a public service, where you represent different places from different cities.
Where do you look for inspiration and did you take any special course for developing your skills?
I took a small course, but in Portugal, there are no barber courses, so I took a hairdresser course for men, but I regret a little bit because that did not give me the knowledge I was expecting to receive. So everything that I know is from my work, videos, various tutorials, and searching the internet for more information. And that's how I started traveling and taking few day courses in different countries. For example, I took a course in Holland with the guys from Shorem, that are the best ones in Europe.  I did similar things and sharing it with other barbers, and taking those skills and that experience to my work. That's how I became a little bit better, and with time You are constantly learning.
Quite soon the people from Portugal will be able to hear your speech in the international conference TedX, where you will share your story with others. What does it mean to you, because it is already a quite important step in your life?
In a way, with this opportunity, I hope I can inspire others and do what they love. It's not that simple doing what You love. Instead of just talking, my story is an example so people can relate themselves to what I did and instead of saying "Do what You love" I am a living example that hard work pays off and I think that things happen for a reason. The person who organizes TedX always encouraged me and believed in all the aspects of my life, and now I asked for nothing, he just simply invited me. I know that I will do my best, and he knows that also. In TedX you can usually hear the speeches about technology and what has been done before and I think it is good to see and listen to different things. I think that it is an opportunity that my city is giving me and appreciate that.
Also, we noticed that you yourself have developed a quite unique style, which represents your personality and what you like. How would you define your appearance and to what kind of style or decade influences you the most?
I am really influenced by what I do, so barbering became my lifestyle. And since I am more like an old-school kind of guy, the cuts that we do are always influenced from the 1920's to 1950's. And in terms of style, I go back to the 1920's and 1930's. So it was always like that: a three-piece suit, which is hard to find in Portugal. Off course, I do the modern twists, but I think simplicity is the key.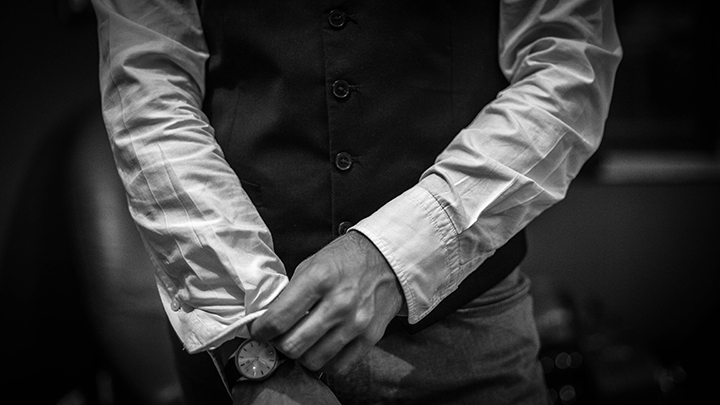 More about your nickname – "Cabalheiro", which has already become your business name. Can you tell to our readers how did you came up with it and what does it represent?
It's a Portuguese word, which refers to "Gentleman", but the correct word would be "Cavalheiro" and I chose to be called "Cabalheiro". I wanted to have a Portuguese name even if outside the country people say it is a little bit like Spanish, but for me it's fine because I know what it means and what it is.
As far as we are informed soon you will leave Portugal and will move to England. What made you think of this decision and what waits for you there?
I was following the place where I will work next, and they are really well known. When I started to work in Braga, their logo was the first frame I put on the wall. And the funny thing is that I didn't know that after some time I will be working there. I send them my work and asked them what I needed to do, but the main problem was that the service is working once a week and it is difficult to receive the answer quite fast. At the moment I know things, I cut the hair, I don't need to learn everything, so I took a little bit of time to contact them again, but then they found somebody else, so at the first time it did not receive a chance. After a while I saw that they were looking for a barber, so I sent them my work again, but they did not take me too seriously. Then later I was going to a barbers' conference, and I knew that they will be there, and they needed a model for the show, and I send them my work and they liked it so it was good because at the show I made a connection with them and showed what I am capable of and that my focus is right.
As we guess there are more plans and ideas coming up, can you share with our readers about your future plans?
I don't want to be known, I would like to be recognized. I want to show to people on what Barbering should be. I already show that every single day with my clients, and I want to keep on doing that. Off course, I am having plans of coming or not back to Portugal after England, because I have a girlfriend and it needs to be considered with her. My plans are to grow up as a barber because that's what I have been doing before with all the journeys and courses and since the beginning, I was always doing something new like I would work and evolve, and when I get bored I would do something new. So now my next step is England and try to evolve as much as I can.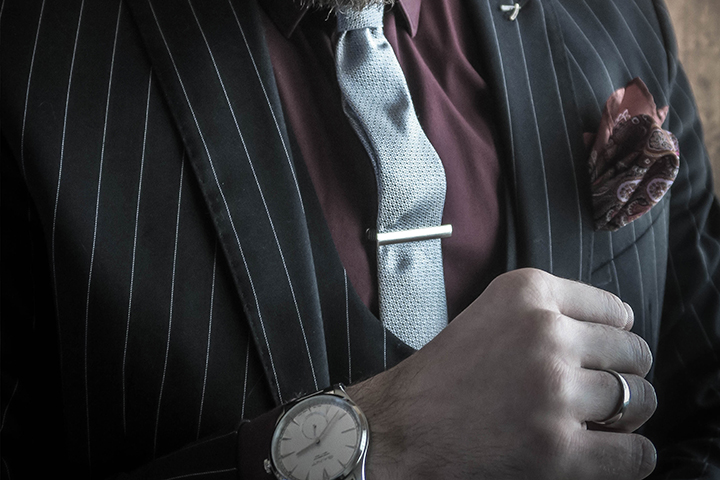 Do you ever plan to open your own barber shop?
Yes, I have it in my plans. Off course, it needs to be considered with my girlfriend. I, Nuno and Carlos became like brothers and we really became good friends and they have the same spirit as I do and I am very happy that they are evolving too and that they're making big progress and I just feel blessed to be here and share these three chairs with them, and the thing is that if I will come back and if I will open a Barbershop it would be with the three of us. The place would be bigger, better. We are like three musketeers.
What would be your quote for life?
The harder I work, the luckier I get.
Three words that would describe the career of a Barber?
André, Nuno, Carlos.