In December, a spectacular event marked the opening of BOLD (The Best Of Local Design), the biggest design product concept store in the Baltics, at Baznīcas Street 18A, Riga.
Occupying 260 square metres on two floors, the store offers customers an eclectic range of the best quality and most exclusive examples of Baltic product design, created by the best designers in Latvia, Lithuania and Estonia. Visitors to the concept store are truly spoilt for choice, being able to take their pick of fashion, home, interior items and decors from over 60 designer-created collections. The new store is a platform for several exclusive brands from Lithuania, which can only be bought at the BOLD concept store including D.Effect, House of Naive and Sandra Strauktkaitė latest collections, TADAM! accessories, niche perfume brand FUMparFUM, fashion designer duo Dovilė Cibulskaitė and Ana Romanova as PURE?, menswear brand labàdienà, as well as stunning creations from other Latvian and Estonian designers.
In future, it is planned that the concept store's retail operation will be expanded to include art, fashion and design events, including exhibitions and collaborative projects with artists, presentations of new design products, and meetings with influential designers. Currently, the concept store's spacious premises are lined with arguably the most memorable photographs from legendary photographer Ulvis Alberts' series Hollywood, in which he has captured iconic moments in the lives of some of the 20th century's most notable musicians and opinion leaders including writer Charles Bukowski, artist Andy Warhol, musicians Bobs Dylan, Cher, The Rolling Stones, Toms Waits and many others.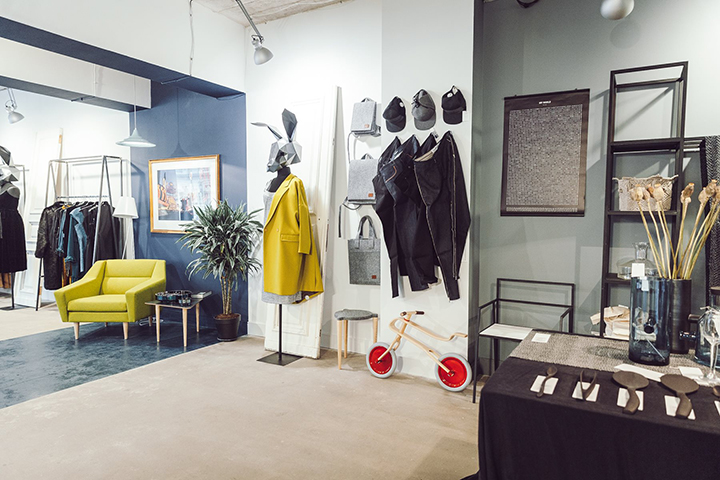 Just 60 days have passed from the birth of idea about a Baltic design mecca to the opening of the store. The concept store's managers Krista and Kristaps Birmanis, model Beāte Stivriņa and artist Bruno Birmanis emphasise that the design objects and fashion accessories on display and for sale in the store meet their exacting quality standards, thus increasing the likelihood that the general public will view the creations of local designers with pleasure and enthusiasm, and proving that we are competitive in a global context. The objects in the store are designed for use in various everyday situations by ladies and gentlemen, and range from fashion items for everyday and festive events through to furniture and interior accessories for the home.