Recently returned from tour in United States, NI&Co – or Gediminas  Gelgotas and New Ideas Chamber orchestra – is not looking for respite in Lithuania and puts new score on the music stand.
Recently they have recorded the new album "Music for Strings" and already next week, 11th of December, their new orchestra program, which was played in Hollywood and enchanted not only minimalistic music gourmet, but also cinema and music industry, will sound in Vilnius Town Hall.
Performance, which is pulsing fresh emotions from the trip and strong energy, like every Ni&Co concert, promises surprises for the listeners. This time in old town space, symphonic music works of Gediminas Gelgotas will crossover with acting, movement and singing.
The composer, which allowed SwO crew to take a glance to backstage of rehearsals, shares impressions from concert tour over Atlantic Ocean and tells about the birth of the new album as well as his inspiring moments of life.
Recently, the album "Music For Strings" has been released. What kind of emotions takes over, when the publishing works have been calmed down?
In the beginning, it is always difficult to listen to your own album, to pull back yourself and look at everything from aside. But now it is the phase, when all of this became pleasant and gratifies us. Undoubtedly, releasing of new album is a very good feeling, because nova days it became almost rarity. I think, for every musician, the importance of releasing new album – is generalization of certain stage. It is like starting point. Then, of course, you understand that new programs, new works are needed.
It is very important to mention that this time album was recorded in Hamburg, recording studio, where very high and advanced technologies are used. Before that, we have released one recording in Lithuania. Everybody replied like: "Oh, it is only a recording. We need to hear your music live." Actually, this album, if it is listened loudly and on good equipment, should transfer, what is heard in live concerts. All the sound aesthetics is well fixed, because there were the newest microphones used too.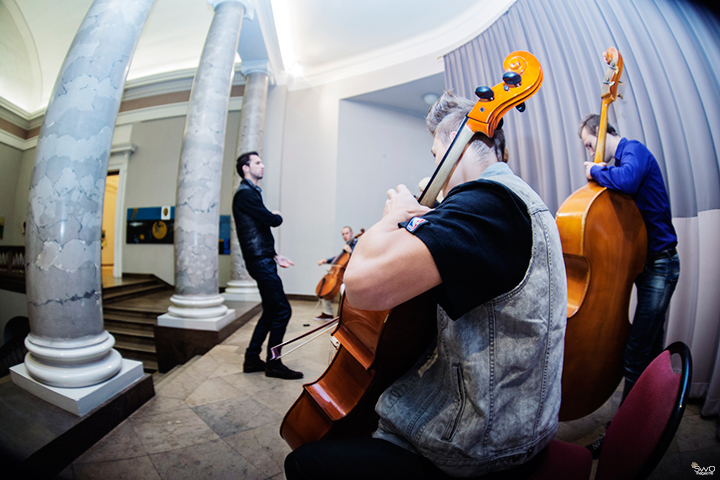 You are talking about stages. What this album is about?
We made this album from vivid minimalistic works. All of them are more silent, with purpose of thoughtfulness. This – is more spacious music. Album contains little bit of action, but I imagine person listening to it before work, while walking on the street or while drinking coffee in the morning, because one way or another, it is… in a very good mood, warm and really fulfilling.
What of this album is important for you personally?
There are four works of mine. It is relatively hard to tell, because there are works, which were created in 2011, or even 2010 and 2009.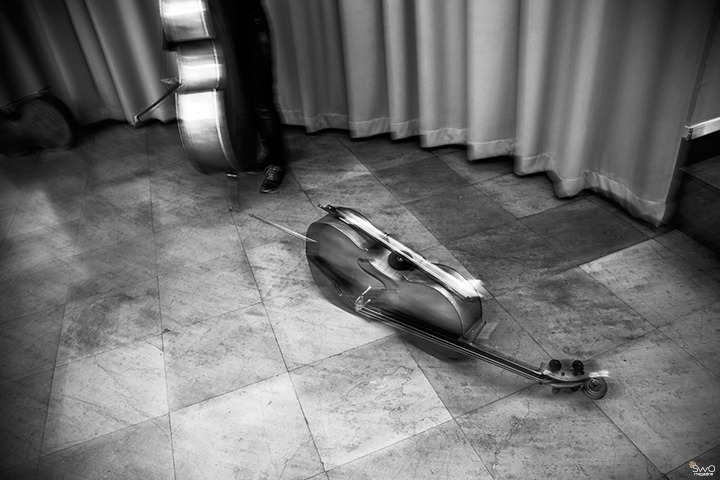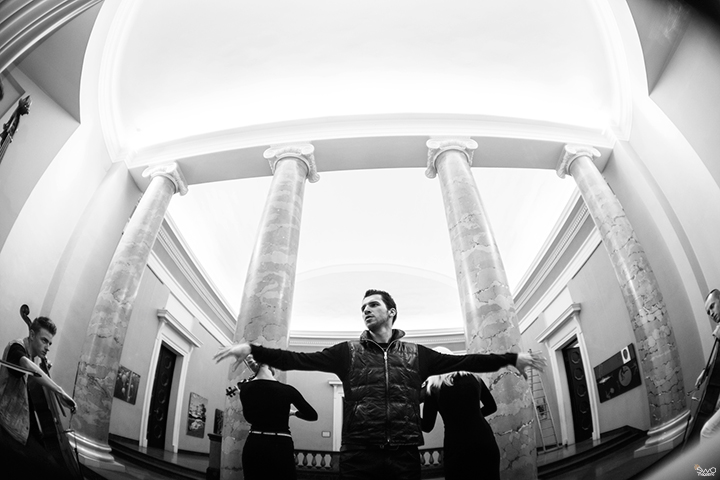 What was the most difficult part in all creative process?
In my opinion, the hardest part was the recording. We arrived to Hamburg just because of the album and just for two days to record one hour of music. First time we were in that high class recording studio and sound directors and overall situation was so serious that we could overcome the tension. Although we recorded big part on the first day, on the second day we were much more relaxed and we not only recorded the missing part, but also re-recorded the one, which was done day before.
"Music For Strings" is described as an album of New Simplicity music direction. What are you looking for in today's music?
Maybe we chose this description, because composers of New Simplicity music direction, as well as our recorded Morten Lauridsen, turns away from complicated art. I think there are two tendencies between composers: one of them, is when music language is very complicated and overall view of music is complicated, so the listener can discover art of the music. However others, for instance, New Simplicity moving representatives, are tend to the simplicity and more pure forms. They are sort of distancing themselves from the global controversies, musical languages and just make, what is beautiful, nice and specially created modernity is not necessarily a key element of their creation work. Music can sound modern even if not using lots of alliteration or dissonances.
There are other composers' works in your album. How they were selected?
I always involve other composers' works to albums as well as to our repertoire. In this album I want only 50 or 70 percent of my own music, because we want to introduce the listeners to the music we like ourselves. There are tendencies of music like minimalism, new simplicity and composers: Arvo Pärt, Philip Glass and already mentioned Morten Lauridsen. These authors inspire me, awakens creativity inside of myself.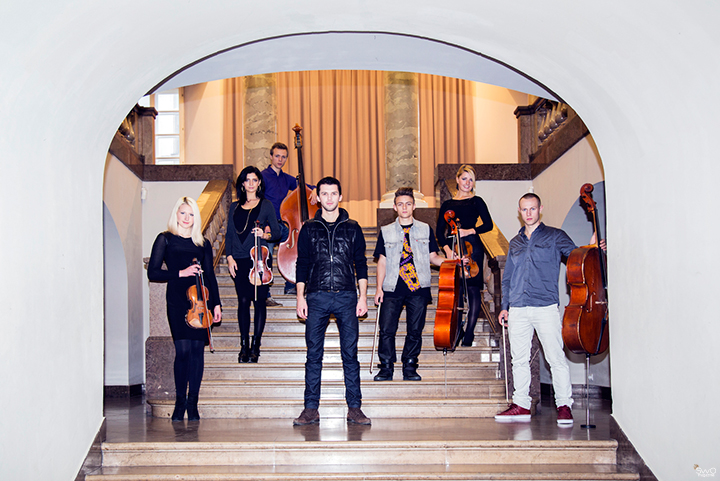 You introduced your album in project, initiated by Gediminas Griškevičius, which was called "Prancūzparkis" (French park) in K. Sirvydas square with enlightened fountains. Why did you precisely choose introduction like that?
That was an absolute coincidence! It happens that when you are looking for something very much, suddenly perfect solution comes along. I was thinking about, how can we present our new album and almost lost hope, because I wanted something truly exclusive. Then I got a phone call from Gediminas. Firstly, I had doubts, if we with orchestra can sign up for idea like that, because we were really busy, bet soon I realized that it is great opportunity for presenting the new album. It was fabulous pleasure to play in enlightened fountain, which was shimmering in all the colours. A lot of people came along and the sound was spread through the entire old town; it is very remarkable evening for me.
Recently you came back from tour to USA. Three weeks you had concerts in Washington, Los Angeles, New York. Your music was heard by music and cinema business representatives, people, who select soundtracks for Hollywood cinema productions. You mentioned that established some important connections. Is that related to movies?
Yes. I have already written music for cinema. I liked it very much and, personally, as a composer, I am going to collaborate with cinematic industry not only in Lithuania, but also in USA. This tour was very important for NI&Co. We have established lots of relations, which are cultivated and developed now and in future, I think, we should direct our activity to the little bit different way. While playing in America, we understood, how openly they accepts us, how well they understand our music and that they need us. Europe tends to intellectual, complicated art. Although minimalism is wending its way here, but it was born in America, developed there, that is why, it is mostly understood there. At the performances, I felt that I was conducting and when culmination was coming up, I heard that people behind me sigh, laugh, whoop… They are enjoying and they understand what you are doing. It is like reading a book in a language you understand very well.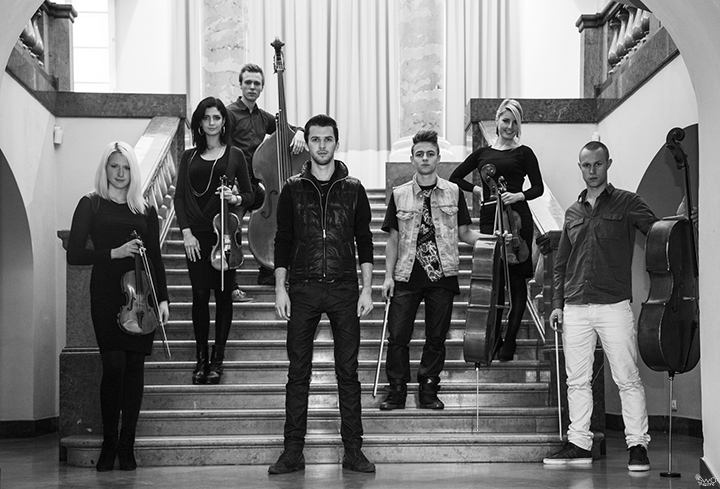 What is special about the upcoming concert?
This concert is special, because we will play medley – fluent, almost one-hour duration composition, which is consisted of my works. It will be like one composition, symphony with movement, acting, singing. Few weeks ago we played the same program in Hollywood and now we brought this program here, – it is freshly rehearsed and strong load of energy. What is more, this concert is special, because during the performance John Tavener, who left our world recently, will be honored. In his memoriam we will play excerpt from Tavener's very popular composition "Protective Cloak" and the violoncello solo part will be played by cellist Justas Kulikauskas.
Genuine conversation with Gediminas and the shiver, which went along the body after hearing first notes of the rehearsal, made us to be eager for next Wednesday. Will we meet?