"It's a big trip in my personal garden which is mine but also Gucci's, and it expresses all the ideas of me, all of my obsessions." Alessandro Michele, Gucci Creative Director
If I had only one sentence to describe what was happening with Gucci Fall-Winter 2017 collection, it would be a rather long one. The most elegant scream in the face of Scandinavian minimalism with its stand-alone line as seen in Acne Studios and rejection of fashion ascetism inherent in Asian fashion names like Yohji Yamamoto. Yet it is still not quite enough. The invitations to show were even more mysterious – limited edition vinyls featured Florence & The Machine reading William Blake's Songs of Innocence and Experience on one side while A$AP Rocky was citing Jane Austen's Persuasion on the other. Carefully chosen iconic literature pieces were first hint to the Alessandro Michele's extravaganza yet to come. "What are we going to do with all this future?", said the invitation cover and the man dubbed "fashion genius" already had an answer.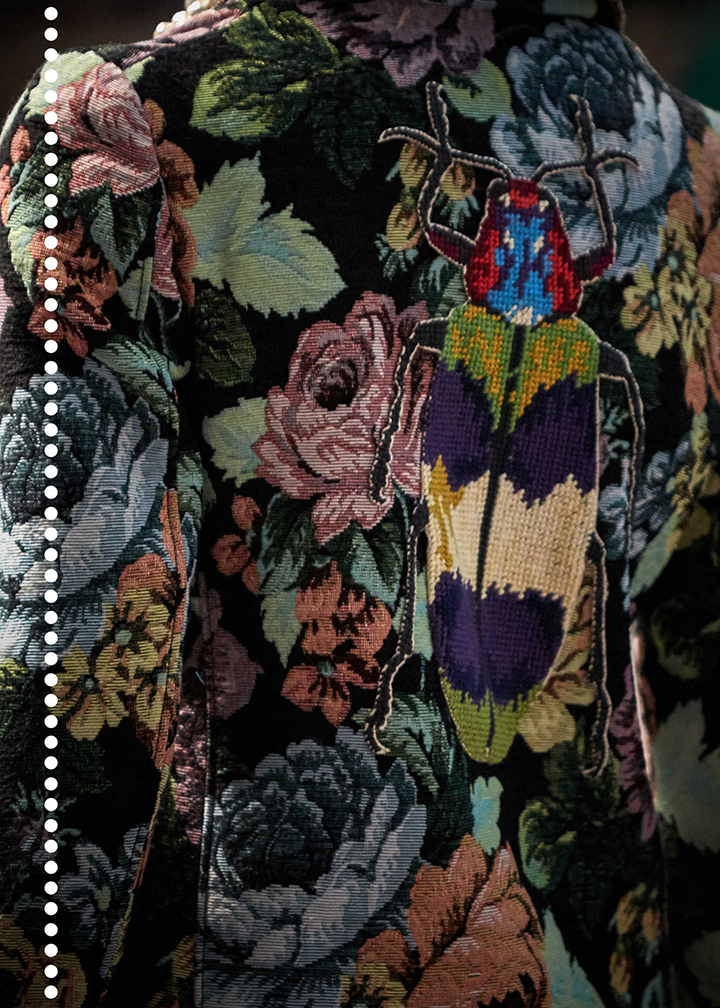 With 119 outfits and 1 maestro Michele directing the whole performance, the collection got sucked into the void of abundance. It's not a secret that excess in broad aesthetic sense has always been deeply imbedded into Italian culture. Gucci has simply raised the bar higher. The whole collection resembled an intense intellectual collage where each symbol corresponds to another. Every outfit carried clues of Victorian England, Renaissance, Humanism, Orientalism, '70s and '80s and '90s, BDSM, David Attenborough's fauna, Romanticist flora. The question was not why, but rather how it all works?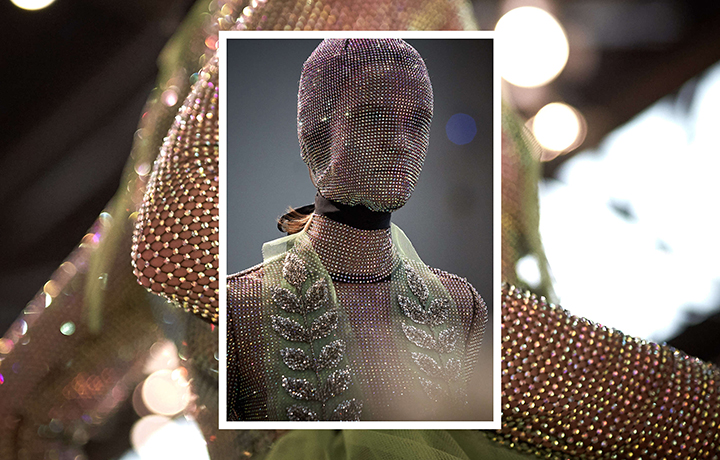 Such celebration of preposterous nature in fashion balanced between the opposites of mesmerizing beauty and utter absurdity. The collection was everything you can possibly think of – encrusted flower patterns, violent septums, checked Anglomania blouses hinting to Westwood's punk era – the time of fashionable anarchy in UK, oil-paper umbrella stolen from Japanese hostess, glossy kimono suits, elongated chokers, bright comic sweaters, gym sweatbands, triangular silhouettes and oversize bel sleeves, archaic head covers,  boxing belts decorated with golden butterflies, piquant overcoats as if dipped in prawn cocktail, a streaming mash of color.  Statement t-shirts marked a collaboration with artist and photographer Coco Capitán. Insightful taglines, as if taken from humanities student handbook, were shedding a critical light over the view. "Common sense is not that common", a line on one of these shirts was probably inspired by the great Enlightenment writer Voltaire. At this point, Alessandro Michele seemed to have has reviewed his own collection ahead of anyone else.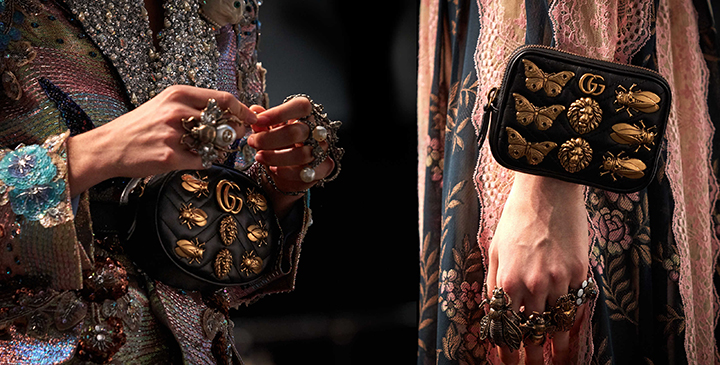 Meanwhile, the set contained a seemingly never-ending Plexiglas corridor and a giant pyramid with rooster weather vane on top of it. That could be seen as anything from playground intergalactic alien kids, a glazed laboratory space reminiscent of currently very much in fashion scientific mystery theme as seen in The OA or Westworld. Steadily changing neon lightning contributed to overall uneasy atmosphere.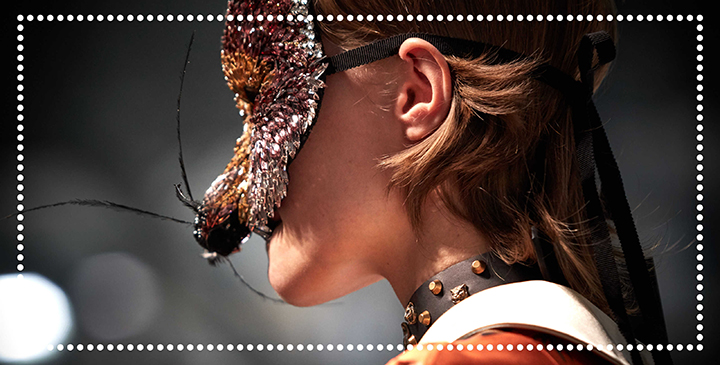 Regardless of such eclecticism, Gucci remained loyal to itself. Crafted embroideries and micro-attention to every single piece were unmistakable. The idea of "Master at work" hinted to overall idea behind the catwalk show. The title reads as "Alchemist's Garden: an anti-modern laboratory". In a bid to extract gold out of base metals like iron or nickel, Alessandro Michele payed a tribute to the material as a form of art itself. He gave the fabric, the detail, the jewel an opportunity of autonomous life that during the show was to be processed into the purest Gucci stone. As cited by Tim Blanks in Business of Fashion, designer explained that "what belongs to him is that he can pick up different things and let them talk, like the alchemist. You take things that apparently have no voice — very trashy stuff from LA, odd things from England, Italian aesthetics, what young guys and girls love — and after, they become gold." The moment of transition, an in-between state where the substance stands before becoming new matter, resides in the core of ancient alchemical practice. In the same way, departed fashion moments were revived for Gucci F/W 2017 collection and offered a glimpse into fashion history as temporary cultural appropriation that is no longer present if it already happened. It appeared that Alessandro Michele's alchemy has nothing to do with nostalgia for fashion design. The so-called "vintage-revival", "granny-chic" labels referring to this new Gucci era are not only insufficient, they might get reductionist and lead to unnecessary stereotypes. On the contrary, Alessandro Michele appears to be convinced that in order to create the future, one had to part with the past, even if the goodbye will last longer than everyone thought.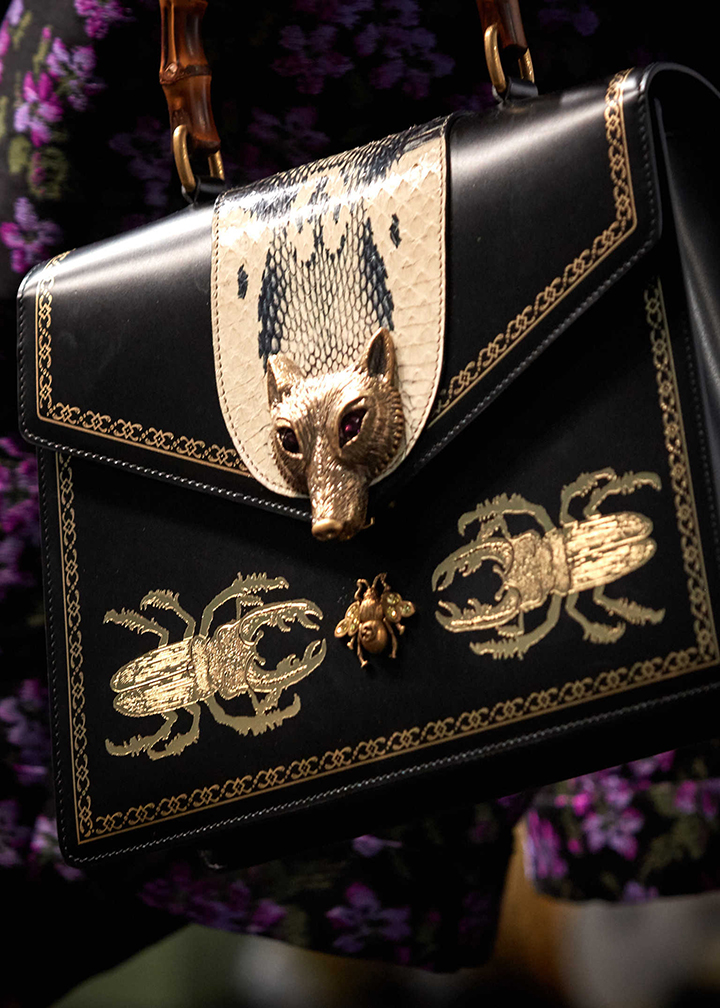 At the end, Alessandro Michele stepped out to bow. Dressed in a yellow Gucci shirt with Coco Capitan's rough writing "Want to go back to believing a story" on top, he did not disappear in the backstage. On the contrary, he decided to walk through the Plexiglas tunnel just like one of his creations. The audience stood up silently for applause. They say that in twenty years, kids will learn this from fashion history books.