From the 14th until the 18th of January 2019 the CREMO exhibition will be open in the VDA exposition space "Krematoriumas" [Crematorium] (Maironio Str. 6, VDA courtyard). This exhibition, which brings together different artists, is part of a series of lectures for graduate students entitled "Remake. Remaking as a creative method" (lect. Severija Inčirauskaitė-Kriaunevičienė). During the lecture cycle, the focus was on creative strategies related to the use of an existing context in art practice. Secondary (ready-made, appropriation) strategies were analysed.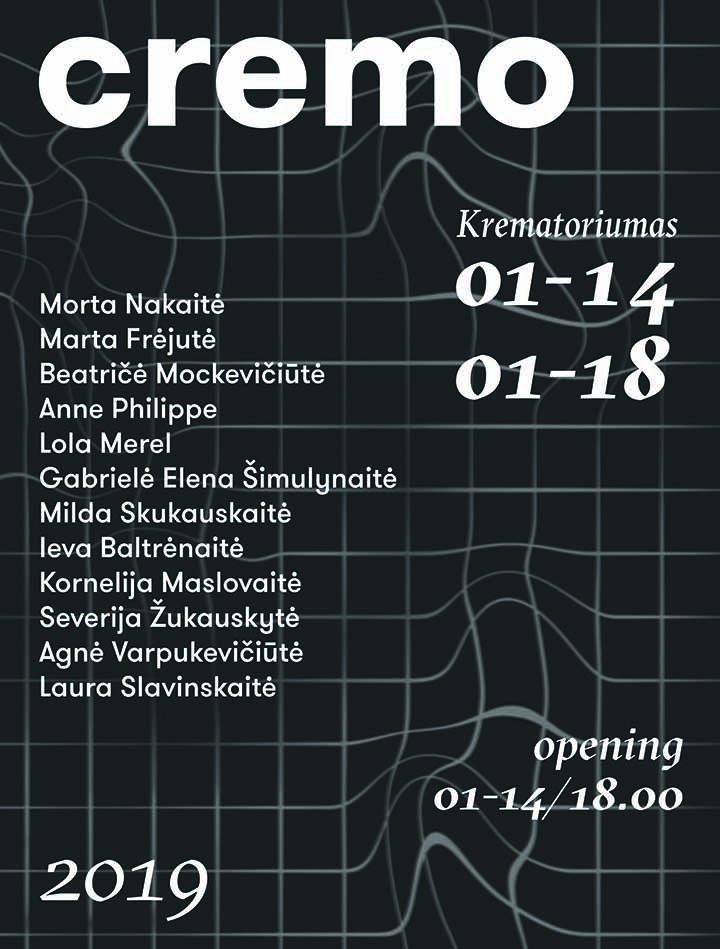 The former VDA ceramicists workshop with exceptional size (albeit no longer used) kilns since 2016 became the VDA's alternative art space, called the "Crematorium". There are held regular exhibitions and other art related events. However, in the CREMO exhibition, this space becomes not only an exposition area but also an ideological basis for all exhibits. All artists reflect the space in different ways. Some creators pay attention to history and use it as a starting point, whilst others, on the contrary, do not consider the past, they simply engage in a dialogue with specific details found in this space. For example, they capture the silhouettes of natural light that appear in the dark basement only at a certain time of the day. Thus, the "art laboratory" itself becomes an exploratory object, where authors, like archaeologists or restorers, scratch the surface of the walls and then to fix the visible cracks.
The title of the exposition "CREMO" refers to both the authentic purpose of the space with the kilns and the macabre name of the area that was later established. In addition, the play of words (consonance with the word "cream") allows to relax for lighter, more playful interpretations, for instance, a culinary replica that draws attention to the common terms used in both ceramics and culinary (e.g. biscuit, glaze, etc.) is fired.
Participants of the exhibition: Morta Nakaitė, Marta Frėjutė, Beatričė Mockevičiūtė, Anne Philippe, Lola Merel, Gabrielė Elena Šimulynaitė, Milda Skukauskaitė, Ieva Baltrėnaitė, Kornelija Maslovaitė, Severija Žukauskytė, Agnė Varpukevičiūtė, Laura Slavinskaitė.
The exhibition is held from the 14th until the 18th of January 2019
Opening: 14th of January 2019, at 6 p.m.
The exhibition will be open every day from 4 p.m. to 6 p.m. (at this time you will be able to meet the participants of the exposition).