Introducing The SOULMATE Collection, the latest addition to the MIND GAMES luxury fragrance line. This exceptional collection ventures into uncharted olfactory territory, capturing the essence of pawn-like strength and unity. The pawn, characterized by determination, ambition, and fearlessness, serves as the inspiration behind this compelling assortment of fragrances.
The SOULMATE Collection embodies these remarkable traits with an unparalleled array of olfactive experiences. Each fragrance in this collection is meticulously crafted to shine individually or blend seamlessly with others, enabling you to craft a truly one-of-a-kind scent. The vessels housing these fragrances exude a sleek, contemporary aesthetic, marked by subtle details that pay homage to the protective armour of pawns.
Immerse yourself in the passion and self-discovery offered by your SOULMATE.

"With the SOULMATE Collection we drew inspiration from the profound connection that exists between two souls," says Alex Shalbaf, Founder of MIND GAMES Fragrances. "We wanted to translate this connection that almost transcends the physical world and delves into the realm of the ethereal. Each fragrance captures the essence of passion, devotion, and harmony, and is woven into every detail. This collection stands as a testament to the boundless power and beauty of love in its purest form with a refined and timeless elegance."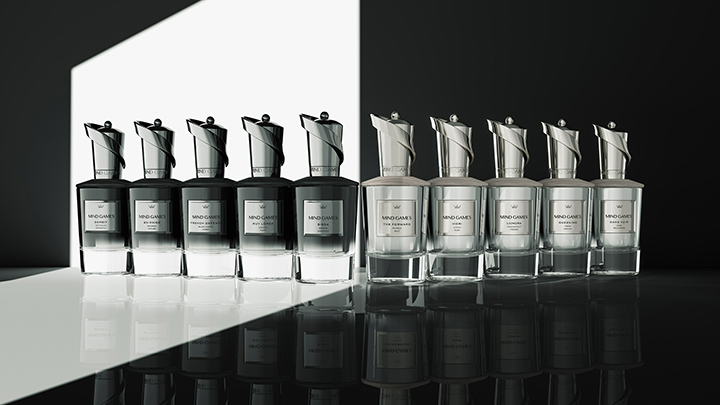 Ruy Lopez Scent Notes
Top Notes: Black Tea, Black Pepper, Cherry
Heart Notes: Rose, Dark Plum, Davana
Base Notes: Patchouli, Leather, Oakwood Accord
Gambit Scent Notes
Top Notes: Petitgrain, Lavender, Clove
Heart Notes: Cardamom, Geranium Madagascar, Mimosa ABS
Base Notes: Patchouli, Sandalwood Dreches, Ambrostar Captive™
Sans Voir Scent Notes
Top Notes: Salt Accord, Grapefruit, Cypress
Heart Notes: Rose, Incense, Freesia
Base Notes: Palo Santo, Guaiac Wood, Musk
Queening Scent Notes
Top Notes: Clean Cotton Accord, Cypress, Apple
Heart Notes: Orris, Rum, Saffron
Base Notes: Whipped Vanilla Bean, Fluffy Musk, Coconut