The new Rossignol winter collection unveils an evolution of style drawing on continuity and consistency, rooted in the brand's Heritage, in its compelling athletic energy and the inspiring bond between an active outlook, comfort and sophistication.
For the first time, all Rossignol apparel collections are brought together under a highly evocative symbol: the Rooster logo becomes not only the distinguishing mark of the product but also synonymous with the fundamental values of excellence and elegance that have always distinguished the brand since its foundation in 1907 in Voiron.
The new all-around selection aligns the quest for technical perfection with a contemporary spirit, blending functionality and aesthetic into authentic and versatile garments, leading their wearer from the slopes to lifestyle resorts and sport-chic hang outs. Performance and style meet in the coordinated, multifunctional outcome of unique materials, colours and details.
Both Men´s and Women's collections share the inspirations and graphics: Rossignol's stripes, reminiscent of the ski-tracks on the snow, inspire carbon-coated touches, colour block designs, and sleek asymmetrical quilting. The pieces are lined with the unique French-blue taken from the legendary 'Strato' ski launched in 1964. The collection anchors itself in the space between high-altitude competition and lifestyle apparel.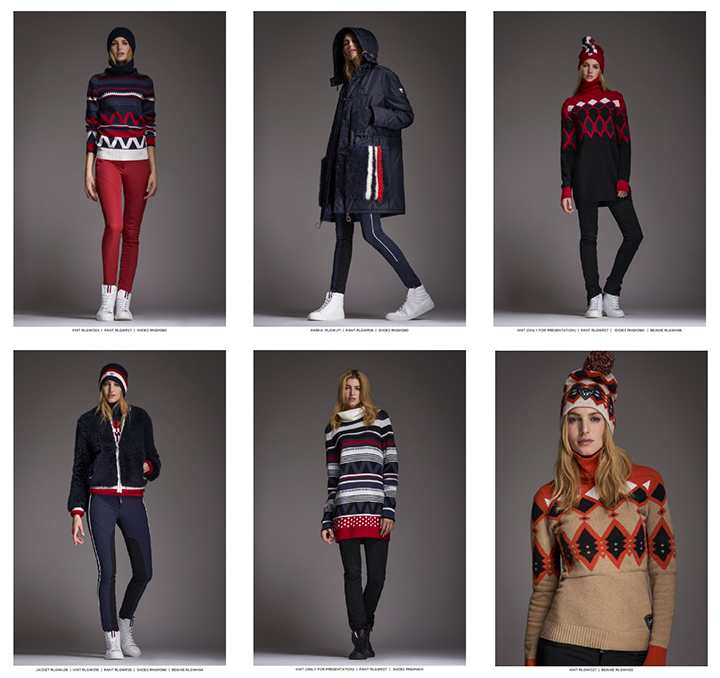 Styles can be worn both on the mountains and in the city streets, embracing Rossignol's primary colours – blue, red and white – and the use of black. The forest green and orange, novelty of the season, heighten the swing between sharp colour contrasts and the monochromatic purity of the Men's collection; Seductive camo patterns, in shades of white and grey derive from the same graphics of the professional ski equipment, using the original pattern of the French Army.
Materials introduce innovative finishing and exclusive treatments that once again embody the "performance meets elegance" philosophy: high-tech nylon and ultra-stretch fabrics, blends of wool and neoprene, coated effects and metallic finishes, Extra white Duvet du Faubourg duck down filling and highly isolating layers of Thinsulate-Featherless.
The luxurious knitwear in merino wool is topped off with the season's distinctive graphics, revealing multicolour intarsia and jacquards that fuse together Rossignol's iconic colours on fitted and fluid shapes. The range features the brand's foundation year, stripes and diagonal motifs, the logo lettering and the unique Rooster mark, also proudly rendered in the polychrome relief embroideries of the best-selling sweatshirts.
The jackets aimed at the most mountain challenges unveil powerful silhouettes and details designed to boost speed, protection and total freedom of moment, nonetheless maintaining a multipurpose and refined image all the while.