Pop-In@Nordstrom is celebrating the holidays with a design-centric gift shop in collaboration with The Museum of Modern Art's MoMA Design Store, known for its curator-approved gifts that bring quality, creativity, and design innovation to everyday living. The shop opens today at select Nordstrom stores and online.
"I've always been a huge fan of MoMA Design Store and their ability to thoughtfully consider the most interesting, exclusive, and enticing products from around the world and to have the opportunity to partner with them this holiday season is very exciting," said Olivia Kim, vice president of Creative Projects at Nordstrom. "We are looking forward to seeing our customers engage with an institutional and iconic brand through a compelling and fun shopping experience and hope they love it as much as we do."
"MoMA Design Store is thrilled to present a selection of MoMA curator-approved design objects and gifts to the incredible Pop-In@Nordstrom customer base this holiday season," says Thomas Randon, General Manager, Retail at The Museum of Modern Art. "With such an engaging shopping format, it is a wonderful opportunity for design-conscious shoppers on the West Coast, in the Midwest, and in Canada to discover our unique products in person."
In addition to MoMA Design Store gifts, the shop includes a selection of gifts hand-picked by Kim and her buying team spanning home, kitchen and dining, tech and gadgets, accessories, beauty, toys and games, and more. Featured items include Christmas cards, wrapping paper, twine, stamps, toys, beauty, and more.
Here is SwO magazine's choice, you can buy them HERE.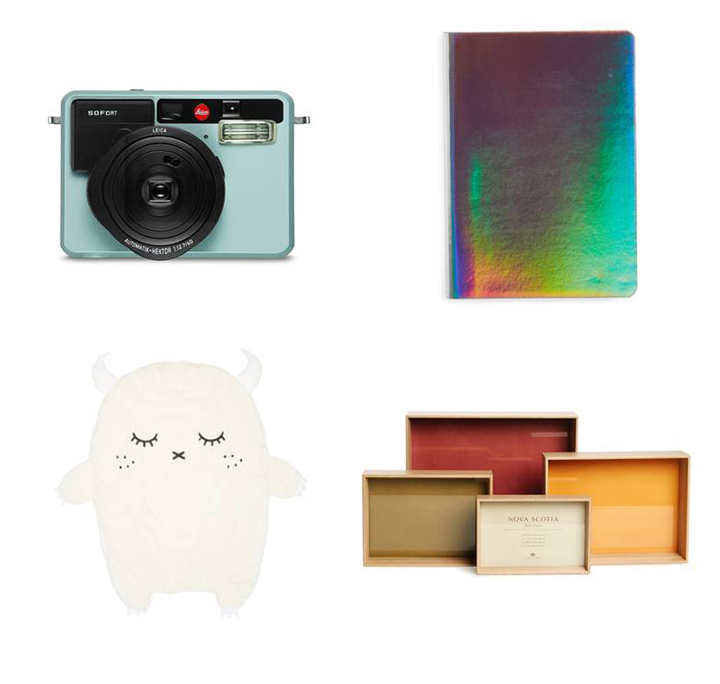 1. Sofort Compact Instant Camera – LEICA, 240.25 £
2. nuuna Small Pearl Notebook – 13.66 £
3. Noodoll Ricepuffy Blanket – 110.89 £
4. Set of 4 Nesting Picture Frames – 30.53 £