Bluemercury, a prominent hub for high-end beauty and a subsidiary of Macy's, Inc., has exciting news to share. They've unveiled an expansion of their exclusive brand portfolio and ventured into a new realm with the introduction of Cerulean 6°—their inaugural line of bath, body, and home fragrance products.
Cerulean 6° is meticulously crafted to meet the discerning preferences of individuals seeking top-tier experiences in bath, body, and home fragrances. It transcends the ordinary, adding a touch of luxury to daily rituals and tantalizing the senses with its thoughtfully curated range of fragrance-centered offerings. This collection, aptly named after the 6° of sensory perception, enriches every experience, embracing the five established physical senses alongside the sixth, known as 'emote.'
Julie Kelly, the Head of Proprietary Brands at Bluemercury, emphasized the crucial role of internal innovation in their business. Cerulean 6° exemplifies this commitment by addressing a clear market demand for premium essentials in the bath, body, and home fragrance domain. Julie noted, "Cerulean 6° was crafted with the intention of fulfilling the desires of clients seeking luxurious fragrance-centred products at an accessible price point, amplifying the charm of everyday moments."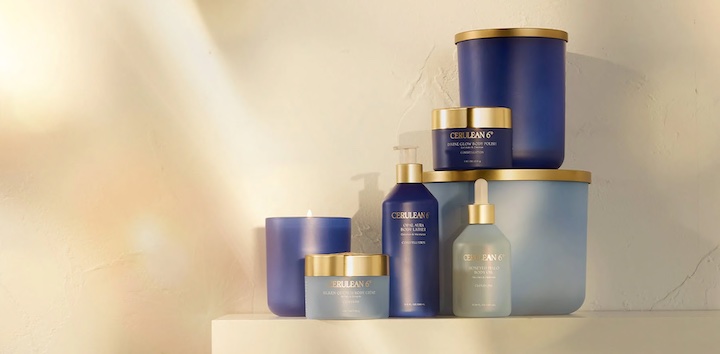 This exciting venture debuts with two captivating scent lines: Constellation, a blend with a prominent wood and floral essence, and Cloudline, featuring a delightful fruit-forward floral aroma. The collection is exclusively available at Bluemercury stores and on Bluemercury.com, showcasing an enticing array of products. Here's a glimpse of what you'll find:
– Silken Quench Body Crème: Essential fragrance oils are infused with a delicate blend of cold-pressed hibiscus flower and shea butter, as well as vitamin E and essential fatty acids that deeply hydrate skin for up to forty-eight hours.
– Opal Aura Body Lather: Calming jojoba oil is combined with essential fragrance oils to wash stressors away, while hydrating rosehip oil softens and moisturizes, leaving skin soothed and smoothed.
– Honeyed Halo Body Oil: Essential fragrance oils, vitamin E and elderflower extract reinvigorate the skin, while an abundance of vitamins, minerals and nutrients work in harmony to moisturize for up to forty-eight hours, relieve rough patches and elevate the body to ideal, glowing health.
– Divine Glow Body Polish: Formulated with essential fragrance oils and infused with sunflower oil and sea salt to rejuvenate the skin, the whipped texture melts from a solid into a fine lather, while spirulina and sea clay gently exfoliate and cleanse.
– Scented Candle: Developed with essential fragrance oils, a custom blend of soy waxes and wicks constructed with natural fibres to elevate your space.
– Aligned to the holiday gifting season, the Scented Candle will also be available in three limited-edition holiday scents – Holiday Splendor, Apple Moonshine and Twinkling Treetops.
The full collection is vegan, gluten-free, paraben-free, phthalate-free, sulfate-free, cruelty-free and free of synthetic dyes, while the body products are also silicone-free, talc-free and dermatologist tested.