On February 20, at 6 p.m., Meno Niša invites visitors to join Laura Sabaliauskaitė's video art and installation exhibition "Spaceless". This is the first solo exhibition for the Best Young Artist at ArtVilnius'19 which will be on at the Meno Niša gallery until March 14.
A graduate from the Department of Photography and Media Art, Vilnius Academy of Arts, Laura Sabaliauskaitė creates virtual reality reflecting social and psychological problems of society. According to art critic Virginijus Kinčinaitis, Laura's works are very personal, projective, based on deep mythology and at the same time melting in the pixels of the screen.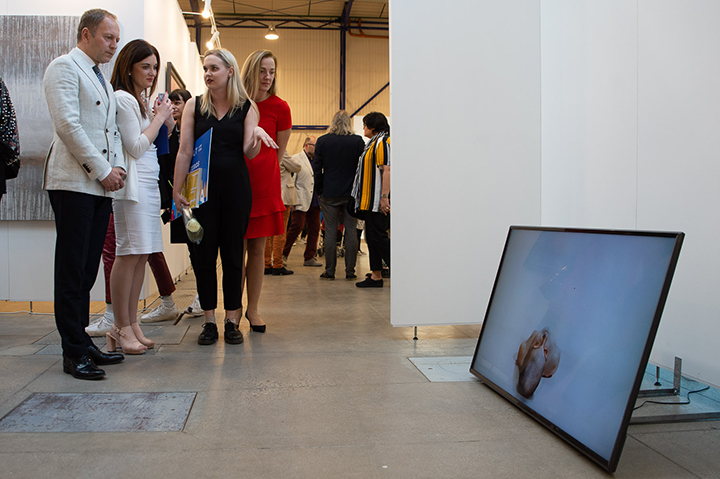 At her debut exhibition, "Spaceless" Laura Sabaliauskaitė will be presenting video art and installations where the spectator has the opportunity to become a part of them. Through her creative work, she tries to touch upon social and psychological themes. The artist films and photographs real objects which, through editing and animation, come to life, find themselves in different situations or shapes, and finally, produce completely different aesthetics that the viewer sees when looking at them.
According to Laura, if we search for a definition of space, we will find a number of theories predominantly arguing that space is a product of the human mind. "Today we live in a virtual environment overfilled with suffering, cruelty, and ultimately acceptance. And humans feel the need for all this because virtuality fills their voids. At all times men have sought knowledge by exploring the vast expanses of space, and at the same time have tasted the forbidden fruits of the tree of knowledge. What reminds suffering becomes purged and walled off from the outside world. However, as a result of a gradually growing lack of external stimuli one is starting to create a better space – a virtual one", the young artist explains the concept of "Spaceless".
Laura Sabaliauskaitė further adds that virtuality allows creating new aesthetics which is becoming more and more acceptable than the truth: "What is forbidden and purged in real space turns into something that the spectator can unrestrictedly observe and be interested in. If you move toward perfection, you want to see purity around yourself. But is it possible to live in an ideal world, separating the body from the truth?"
In 2019 Laura Sabaliauskaitė was selected by the international jury of Art Fair ArtVilnius as the Best Young Artist (under 35). The artist was awarded the prize by Law Firm COBALT, maecenas of the fair. It was Laura's debut at this fair where the artist presented her works in public for the first time. According to Laura, there was a long break in the artistic field after her graduation and she even thought of quitting creative work altogether. However, the award she won at ArtVilnius completely changed her plans.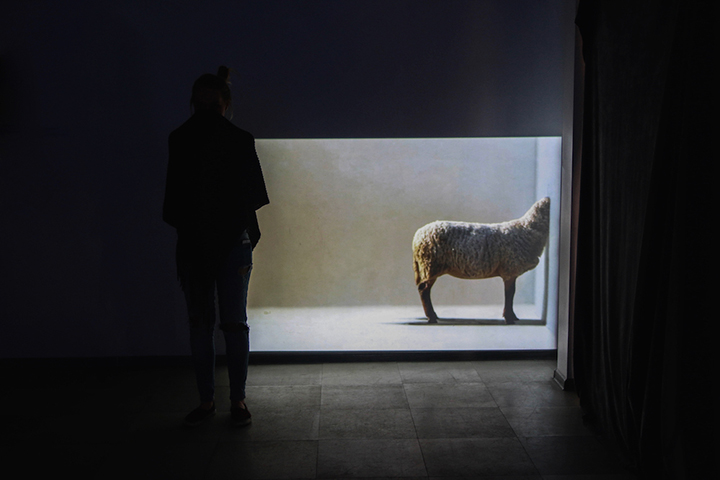 The debut exhibition by Laura Sabaliauskaitė is part of the Meno Niša's project Art Space for Young Artists. It is an ongoing art project successfully continued after being launched in 2011, covering young artists' exhibition cycles and promoting their initiatives and continuity of artistic ideas. The project is co-funded by the Lithuanian Council for Culture.
Laura Sabaliauskaitė's "Spaceless" is open at the Meno Niša gallery from 21 February to 14 March. Gallery opening hours: Tuesday – Friday 12 noon – 6 p.m., Saturday 12 noon – 4 p.m. The gallery will be open on Sundays during the "Su-Menėk" (Go-Art!) project. Entry is free for all visitors.