The jubilee 25th season of the RIGA FASHION WEEK took place in Riga from the 27th of October till the 2nd of November. During the shows of RIGA FASHION WEEK the Spring/Summer 2017 pret-a-porter collections were traditionally presented by well-known Latvian and a few foreign designers: M-Couture, NÓLÓ, Amoralle, Katya Katya Shehurina, Anna Led, Dace Bahmann, QooQoo, One Wolf, Paviljons, Deeply Personal, Natalija Jansone, Narciss, Federica Tosi (Italy), Ivo Nikkolo (Estonia) and a debutant of this season – brand Talented. The latest kids' fashion collections were presented by Lazy Francis, Paade Mode and Aristocrat Kids.
A designer Evija Saitere is one more debutant of this season. She has presented her new fashion collection, which got a special prize at the international competition "Fashion Future for Hong Kong" in Hong Kong this summer, at the conceptual exhibition. It's worth noting that the Baltic Fashion Federation cooperating with the Italian Embassy in Latvia and Istituto Europeo di Design awarded young and perspective designer Evija Saitere for great achievements in the international competition and presented her 4 weeks IED Summer Courses. The prize was handed to Evija by the professor Bruno Manfuso, who came from Milan especially for the exhibition opening. Also the professor presented a lecture "World fashion capitals nowadays" in the Art Academy of Latvia during his stay in Riga.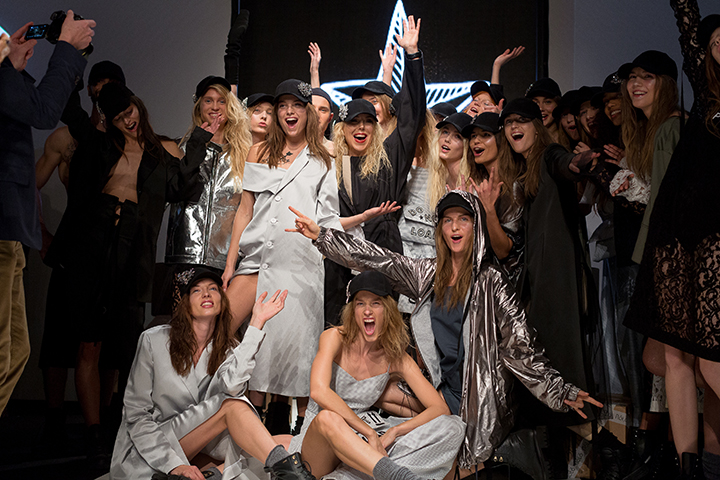 Besides the fashion shows the RFW program included also a few thematic events: presentation of designer collections for buyers and journalists in the press-showroom 8 ROOMS, Estonian contemporary jewellery exhibition Castle in the Air in the art gallery PUTTI, Latvian designer's Elina Dobele footwear collection presentation and ESSENTIAL LOOKS hair-style trends show by Schwarzkopf Professional. Traditionally during the RIGA FASHION WEEK everybody interested in had an opportunity to join two parties in the official RFW club – Coyote Fly Lounge Club: RFW Models & Fans Party and Samsung Galaxy Party as well as had a chance to enjoy designers fashion shows by Bulichev and Baltman. Also during the party the most demanded models in RFW history were announced and awarded: Beate Stivrina, who participate in RFW already for more than ten years; Mara Sleja received the title «The most patriotic model» because of working only in Latvia; Svetlana Kiselyova participated in RFW many times and now she is the owner of the model agency "Freyja Model Managmante"; Eva Berzina is a face of this season's RFW advertising and she also participated in the shows of the most famous fashion brands: Channel, Docle&Gabbana, Armani, Kenzo and others; Samanta Goldberga – one of the most promising models of the last RFW seasons.
For already 12 years twice a year RIGA FASHION WEEK becomes the central event of the capital's cultural scene, gathering in one place not only internationally recognized designers, but also representatives of the world's leading media, bloggers, experts of the fashion industry and buyers from various countries. In this season buyers from 6 counties – LC Fashion (France), Margreeth Olsthoorn (Holland), Temporary Showroom (Germany), www.Baltic.market, Kick The Moon (Lithuania), Freedom Store, Dan Mode and Lef27+2 (Russia) visited Riga and after the fashion shows bought clothes from the Natālija Jansone, QooQoo, Anna Led and Nolo designer collections as well as were interested in brands Katya Katya Shehurina, Deeply Personal and One Wolf.