This summer marks the 14th anniversary of Tisno's longest-running festival, SuncéBeat. This idyllic musical retreat provides a perfect escape from the hustle and bustle of everyday life, with a week of sun-kissed and starry escapades. This year, the festival will be featuring 15 boat parties on the breathtaking Adriatic sea in Croatia.
SuncéBeat flawlessly integrates a musical adventure with a holiday, creating an unforgettable experience. As the younger sibling of Southport Weekender, the festival adopts the same all-encompassing and meticulously curated approach to music. This attracts like-minded individuals in search of some of the world's most exceptional artists, who will perform in a beautiful coastal environment from July 20th to July 27th.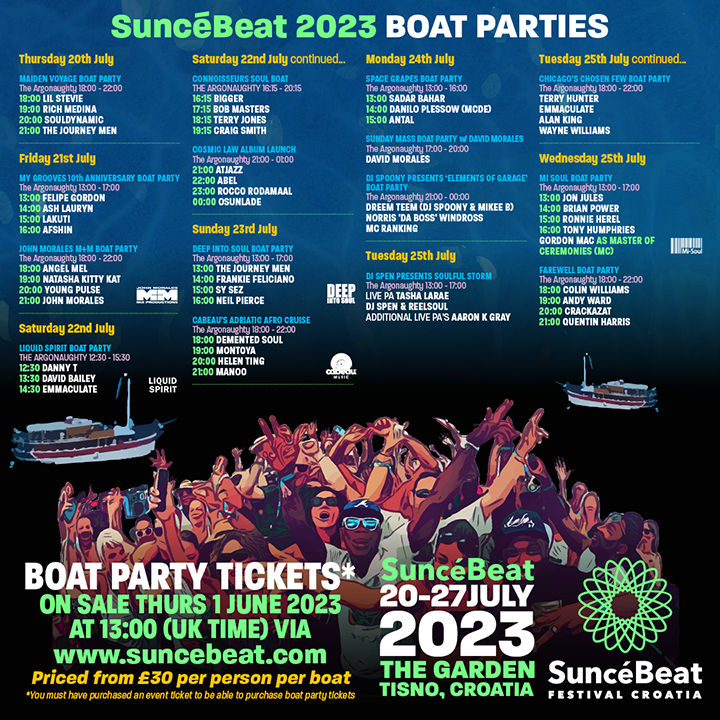 The boat parties are a crucial component of any visit to SuncéBeat, and this year's 15 voyages embrace a wide range of sounds and genres that form the week-long odyssey. The parties will be held on The Argonaughty, a legendary Adriatic cruiser. These dates include the 10th Anniversary My Grooves, John Morales M+M boat party, Cabeau's Adriatic Afro Cruise, DJ Spoony's Elements of Garage and Chicago's Chosen Few amongst many others.
The iconic festival has already announced an incredible lineup of guest artists in its phase-one announcement, including Body & Soul NYC: (Joe Claussell – Danny Krivit – Francois K), Kruder & Dorfmeister (DJ SET) and DJ Spoony with Kenny Dope, David Morales, Danilo Plessow (MCDE) and his live band Another Taste, Hunee, Antal, Osunlade, Tony Humphries, Children of Zeus (live), DJ Spen and Friends, Marcellus Pittman and many more.