Hong Kong Accredited Diamond Exchange (HKADE) provides the first online peer-to-peer (P2P) global diamond marketplace with its reliable verification service and unique features for investment consideration with the support of non-physical settlement.
P2P trend hits the traditional jewellery market
"There is a big gap between the retail price and resale price of diamonds. This is because information about the diamond market is not always clear. But if we directly connect buyers and sellers through the Internet, this price gap can be greatly reduced," said Mr. Shih Wing-Ching.
At present, the value of diamonds has not been fully realized. But when the resale market is well established, the investment value, resale value and earnings potential are believed to increase. In turn, the demand for diamonds across all markets will go up. It brings good news to jewellers who already have tough competition in the industry.
End-user-to-end-user connection usually does little control in quality or even authenticity. To address public concern, HKADE provides rigorous verification of every traded diamond with the help of highly-trained experts and GIA equipment. Seller has an option to send the stone for verification before listing or after purchase. An index price also serves as a good online retail price reference. So people without gemmology background can now shop with confidence.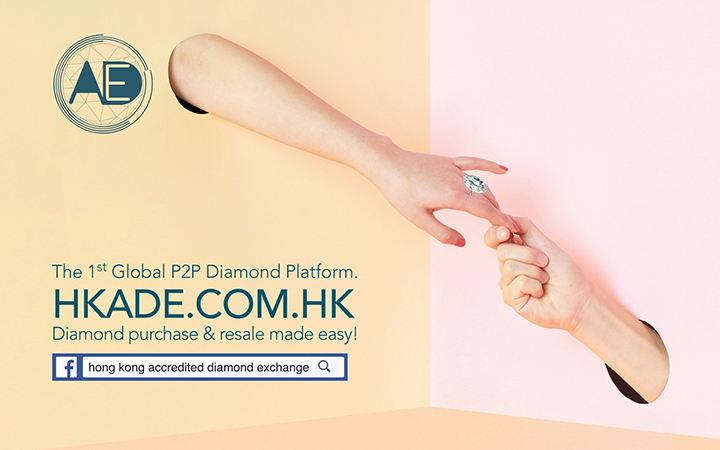 Through the decades, people have been seeking a way to make diamond as an investment option, e.g. investing in mines or diamond corporates, diamond ETF, etc. Physical diamond investment seems to be a privilege for gem experts and insiders only. Since HKADE has opened the gate for global public to trade in a resale market, the situation is changing.
HKADE's secure storage service is tailor-made for potential investors. "Every diamond we store comes with a Safe Keeping Receipt (SKR), which can be instantly verified online as proof of asset ownership. SKRs not only includes all verification data of the stone, but also features a 360-degree video of the diamond, serving as a photo ID. As long as the stone is kept in our custody, users can trade in SKRs more quickly and seamlessly. It is just as easy as trading in gold!" said Cherry Leong, co-founder of HKADE.
The impact brought by innovations to traditional industries is always exciting. After all, people now have a convincing excuse to spend on luxury sparkles!