At 6 pm on March 26, a solo exhibition of Estonian artist Edith Karlson entitled 'Four Letter World' is opening at the (AV17) Gallery.
Hate, love, work, fear, cash, spam, pain, perv, scam, weak, game, meme, poop–these are words describing the feelings and states of an individual living in a four letter world. The sculptural installations of Estonian artist Edith Karlson reflect a person stuck in a chaotic and absurd world and constantly fighting against one's own feelings. Animals and anthropomorphic figures are the main protagonists here, expressing diverse characters in a sad and at the same time ironical courses of life.
In her previous work, the artist analysed the concept of life drama constantly created in one's own head, as well as the connections between human beings, animals and nature. In the exhibition 'Four Letter World', Karlson returns to the human origins and self-analysis by constantly examining herself and her surroundings. For the first time, she reveals her own personal experiences, and tells a story about insomnia, uncertainty and dizziness that haunted her for several years. The objects that appear in the exhibition become an attempt to return to reality, but the distance that emerges between the viewer and real life creates even more intense feelings of surrealness.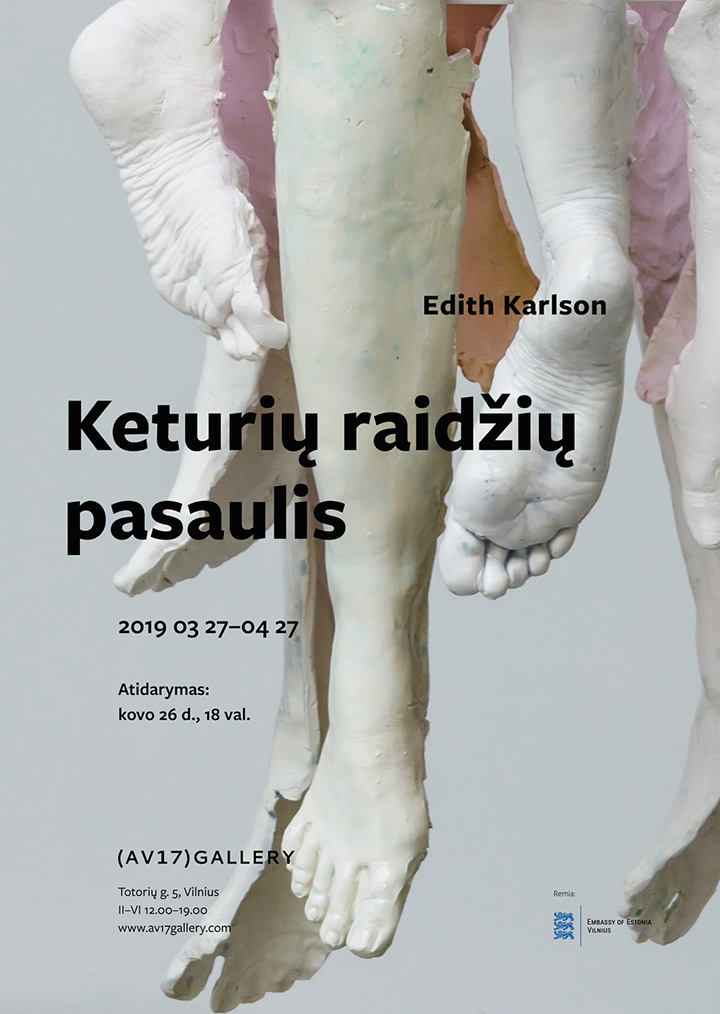 By merging classical and untraditional, mundane materials, Karlson reveals a strange, fantastic and inevitable world, where a Person confronts a Myth. The motifs of snakes and naked bodies remind of Sodom and Gomorrah, while allegories of power–of discipline, morality and human possibilities. However, eventually everything merges into one dark mythological fairy-tale, and only presumptive reflections of reality can be seen in its fictional layers. Karlson's work opens a state of confusion which sometimes leads to human primitivism, yet at the same time allows to existentially review both her work and one's own existence.
Edith Karlson (b. 1983) is a freelance artist who lives and works in Tallinn, Estonia. She graduated from Estonian Academy of Arts where she gained her Master's degree in Sculpture. In 2006 Karlson was awarded with the Young Artist of the Year Award and in 2015, the People's Choice Award of the Köler Prize. Karlson has had multiple solo and group exhibitions in Estonia as well as abroad. In 2011 she collaborated with British artist Sarah Lucas and art collective Gelitin on an exhibition 'Lucas-Bosch- Gelatine' in Kunsthalle Krems, Austria. In 2015 Karlson assisted Sarah Lucas in the production of Lucas' solo exhibition 'I Scream Daddio' for the British Pavilion at the Venice Biennale.
The exhibition 'Four Letter World' will be open until April 27 at the (AV17) Gallery, Totorių g. 5.