We are happy to show you an exclusive capsule collection by Christian Louboutin for the SportyHenri.com.
Taking inspiration from the Sporty Henri motto, "Mettre Le Sport En Valeur," Christian Louboutin created four limited edition styles, each based on beloved and highly collectible sneaker silhouettes in his men's collection. The trainers leverage the Sporty Henri brand's clean colour palette of white, cobalt blue and black, as well as the distinctive logo – a playful and elegant profile inspired by founder and former French professional handball player Henri Tai.
"It's a real pleasure for me to touch and create some exclusive designs which, I think, represent the values that are dear to Henri: sport mixed with style in a fun and colourful way. I am thrilled to be part of the new adventure of SportyHenri.com, and I wish their team and their clients all the best in a sporty and stylish world," says Christian Louboutin.
The SportyHenri.com offering features a diverse mix of premium international brands as well as niche labels from the intersection of fashion and sport, all selected by Tai personally. The collaboration with Christian Louboutin marks the first exclusive capsule created for the site.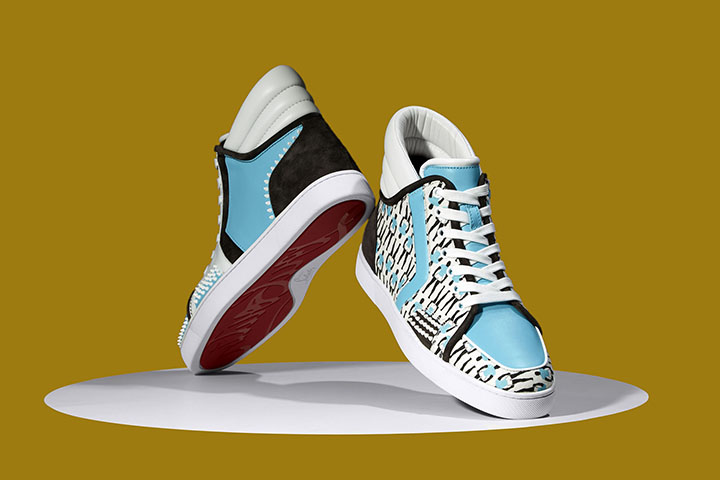 "For me, clothes are an extension of myself, they let me express something about who I am, about my personality, but also they let me explore it. It is this vision that I want to bring to life with SportyHenri.com, and here it takes form through this wonderful capsule collection of trainers by Christian Louboutin, which I feel very privileged to offer our clients exclusively," Tai says of the collaboration with Christian Louboutin.
This exciting new collaboration is the second project for the friends, Louboutin and Tai having teamed up to support the Cuban National delegation as Official Supplier of the Celebratory Outfit in the recent Olympic Games in Rio. In consultation with the athletes themselves, they created an elegant uniform befitting the glorious celebratory moments of their Olympic journey, created solely for use of the Cuban National delegation to celebrate their participation which were not sold.
The capsule collection of Christian Louboutin for SportyHenri.com limited edition trainers will be available from the 14th September online at SportyHenri.com exclusively, and at select Christian Louboutin flagship boutiques including New York, Los Angeles, Hong Kong, Seoul, Dubai, Tokyo and Beijing.
SwO magazine recommends you our favorite one, you can buy it HERE.